Case Studies:
Schoharie Creek Bridge Collapse
Foundation Failure Causes Bridge Collapse
The sudden collapse of a 5-span New York Thruway bridge over the Schoharie Creek west of Albany, NY, resulted in the deaths of 8 motorists who were either in vehicles on the bridge at the time of the collapse or who drove into the open gap before the road could be blockaded. The collapse resulted in the closure of a portion of the Thruway until investigations were completed and a replacement structure could be designed and constructed.
In dry periods, the creek is shallow enough to be waded across. In times of flood, the creek fills the flood plain between the bridge abutments and becomes a deep and high velocity torrent.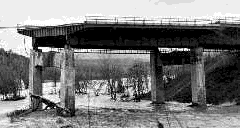 The photo sequence above shows the collapse of the west side span of the bridge. Two of the central spans of the bridge collapsed first after a submerged pier foundation had been scoured out by the flood waters. Within an hour, a third span at the west side of the bridge collapsed when one of its two support piers was also undermined.
After the flood waters subsided, the creek was diverted and the piers and collapsed bridge structure could be inspected. The photo shows one of the massive piers that had been undermined by the flood waters. The soil beneath the pier had washed away and the concrete foundation had settled and cracked. This movement had caused the bridge structure to slide off of its supports and collapse.
A team of experts from Hudson International was called in immediately after the collapse to determine the cause, estimate the damage and cost of repair, and to recommend methods for expeditious reconstruction.
Have a question about our services?  Make an inquiry.
Learn about our broad range of litigation support and insurance investigation services.