Case Studies:
Large Building Loss Investigations
Early on a Saturday morning, a fire erupted on the 22nd floor of a 38 story high rise office building and burned out of control from the 22nd floor to the 30th floor, totally destroying all contents and improvements on these floors. The cause of the fire was later learned to be the spontaneous combustion of rags soaked in linseed oil which were being used to perform woodwork repairs on the 22nd floor.
The floors below the fire from the basement through the 21st story suffered mainly water damage from fire fighting activities. The floors above the fire, 31st through 38th, experienced mainly smoke damage to the contents and finishes. The fire floors, 22nd through 30th, revealed extensive damage or destruction of the contents, finishes, structural beams and girders, concrete floors and metal deck. The exterior wall system of granite panes with concrete backing had to be removed and replaced, along with all windows and frames.
Environmental testing subsequently revealed elevated levels of PCBs and Dioxins which ultimately required the replacement of the buildings' mechanical and electrical systems. The loss eventually totaled over 100 million dollars. Hudson International was requested to provide a team of experts in high rise building and building systems to provide:
Review and critique C & O investigation
Scope of damages
Reconstruction estimate, plus code upgrades
Reconstruction plan and schedule
Monitoring of Demolition Contractors
Oversight of safety-related work items
Coordination and review of various A & E consultants and their activities
Environmental Testing & Evaluation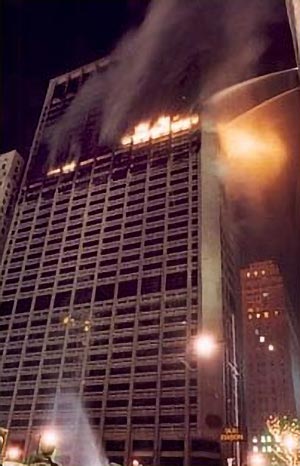 Have a question about our services?  Make an inquiry.
Learn about our broad range of litigation support and insurance investigation services.